The Sunday Van Club: Where a Faith Journey Leads (Hardcover)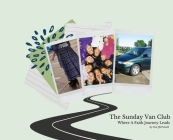 $30.00

Usually Ships in 1-5 Days
Description
---
"When my father] talked, his words were about going back. He reminisced and became nostalgic.
He missed his previous life when things were better.
It was peaceful existence. Until the war."
Nine little girls, the children of Vietnam War refugees, found themselves in the no man's land between their Southeast Asian roots and American culture.
One elementary school principal, compelled by their heartrending stories, guided them on their journey to a new life.
In their own words, the girls - now young women - shed light on the real experience of first generation American life, and how the love of just one person can change everything.
Part memoir, part coming of age tale, this faith filled book will inspire readers to look to their own communities for ways they can leave an impact. Each story includes a guide for mentors and practical examples of ways to care for and help the people we encounter ever day.