A Birth Day for Hannah (Mountain Dog Books) (Hardcover)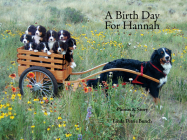 $17.99
Usually Ships in 1-5 Days
Description
---
Finalist, 2017 International Book Awards in Children's Literature

In this rhyming story with fabulous photos of adorable Bernese Mountain Dog puppies, Hannah, a Bernese, gives birth to her first litter of puppies. The book follows the development of the bouncy Bernese pups over eight weeks, as their antics grow. The puppies enjoy some of the same activities that children like, such as playing in the mud, taking a bath, and being loved by their mother. Not only does Hannah literally have a birth day, but the puppies also celebrate a birthday together with cake and a party just before going to their new homes. Hannah loves all of her babies and is upset that they have to leave home, but she lucks out when one puppy gets to stay behind to live with her! Kids adore Hannah! This book received a 2017 National Book Finalist Award for Children's Literature.
About the Author
---
Linda Petrie Bunch is the owner of the internet development and video business, Core Interactive Media. An avid outdoor photographer and oil painter, she has created documentaries, directed political advertisements, and serves on the boards of nonprofit organizations such as Planned Parenthood and the Denver Film Society. She has loved--and been loved by--Bernese Mountain Dogs for more than 20 years. She is the author of A Beach Day for Hannah and A Snow Day for Hannah. She lives in Denver.