I Love You More Than . . . (Paperback)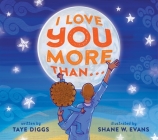 Description
---
My child.

I am not always with you
as much as I'd like.

But you are always in my mind
and my heart.

Some families look different than others. A father who doesn't live full-time with his son tells him all the ways he misses and loves him.

I Love You More Than ... by Taye Diggs, illustrated by Shane W. Evans, is perfect for families who are separated, whatever the circumstances. Its message of love underscores the bond between parent and child in ways that little ones will understand.
About the Author
---
Taye Diggs is an actor whose credits include motion pictures (How Stella Got Her Groove Back and Chicago), stage (Rent, Wicked), and television (Private Practice). He lives in Los Angeles and New York City with his wife, the actress Idina Menzel, and their son.

Shane W. Evans studied at Syracuse University School of Visual and Performing Arts and graduated in 1993 and began traveling the world. In addition to contract work in illustration, graphic design and web design for major companies, Evans has conceptualized and illustrated numerous children's books. Many of the books have been featured in the media such as The Oprah Winfrey Show, The Today Show, NBA Inside Stuff, Reading Rainbow and Late Night with David Letterman. Shane has received much acclaim within the children's literary field for his work on children's books such as "Osceola," "The Way The Door Closes," "Shaq and the Beanstalk" and "Take It To The Hoop Magic Johnson." His accolades range from being honored by First Lady Laura Bush at the 2002 National Book Festival, The Boston Globe-Horn Book Award and The Orbis Pictus Award for Outstanding Non-Fiction for Children.
Praise For…
---
"In this affirmation of paternal love by the creators of Mixed Me!, an African-American man addresses his child, lamenting that though "I am not always with you as much as I'd like... You are always running around in my mind and chilling inside my heart." Pictured more often apart than together—it appears that travel often separates them—the two participate, on facing pages, in analogous activities as the narrator lovingly reminds his child that he's seen and adored: "I love you more than I love the beach… I love the footprints your little feet make when I'm chasing you through the sand."--Publishers Weekly

"This book is more than just a beautiful love letter from a father to his child, it also provides the reassurance so many children need when they are separated from their parents. ...a true gem." --School Library Journal, starred review


Mixed Me!:

"Mike's unerring sense of self ('I'm a beautiful blend of dark and light') and the powerful love that surrounds him make this a rewarding, valuable read for families of any makeup." —Publishers Weekly, starred review

"[A] well-written, fun story of acceptance, friendship, and love. The text, colors, and design make this a good choice for read-alouds, but there are many details in the artwork . . . that make it good for one-on-one sharing." —School Library Journal, starred review

"Mike's confidence in his own appearance and coolness as well as the way he proudly embodies diversity, including a certain level of androgyny, make this a refreshing read. . . . [The] mixed-media illustrations will make readers want to reach out and touch them . . . If all kids had the confidence about who they are that Mike has, what a wonderful world this would be." —Kirkus Reviews, starred review

"The story's joyful message will resonate with multiracial readers and their families, leaving them with the cheeky takeaway: if you have a problem with me, it's your problem." —Booklist

Chocolate Me:
"With its universal themes of wanting to fit in, self-acceptance, and self-esteem, this read-aloud offering is sure to strike a chord with many young readers/listeners, and on a variety subjects, not just race." —School Library Journal