Managing God's Money: A Biblical Guide (CD-Audio)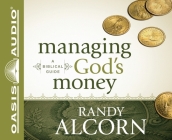 $22.99
Email or call for price.
Description
---
Is what we do with our money really any of God's business? Does God mind if we spend money on ourselves? What about debt? Savings? Retirement? How much does God expect us to give? God cares immensely that we manage money with an eternal perspective. Scripture's teaching on this subject practically screams for our attention. In fact, Jesus says more about money than any other topic—including Heaven and Hell. In a simple, easy-to-follow format, Randy Alcorn addresses exactly what the Bible says about how we should handle the money and possessions God owns and entrusts to our management. Filled with helpful Scripture, Managing God's Money is the perfect resource for anyone interested in gaining a solid biblical understanding of financial stewardship. It's great for groups and churches, too!
About the Author
---
Randy Alcorn is the founder and director of Eternal Perspective Ministries and the best-selling author of Heaven; Money, Possessions, and Eternity; The Treasure Principle; If God Is Good; Deadline; Dominion; Deception; and Safely Home. Randy and his wife, Nanci, live in Oregon and have two married daughters.
Praise For…
---
"Randy Alcorn is back, writing about a topic he's very familiar with—financial stewardship. He cites scripture as he explains that everything we own is given to us by God and, therefore, should be treated as precious and borrowed. Jon Gauger accomplishes one of the more difficult tasks of a narrator in that he makes this work his own. He reads with great feeling—as though he has personally experienced the joys and pitfalls of which Alcorn writes. When sharing a deep, theological truth, his measured voice helps the listener meditate on what is being read. Gauger and Alcorn combine for an enjoyable experience that, if heeded, will prove fruitful in this life and the next." 
T.D. © AudioFile Portland, Maine